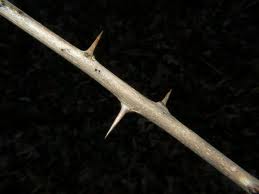 Three Thorns
by Christina Quinn
Three little thorns were on a branch
being woven into a crown.
On this branch was no sign of green life,
the only color brown.
The crown of thorns was placed on the Son of God.
The Son of God pulled a tree behind Him,
which the thorns thought was very odd.
The thorns heard crying, laughing and jeering.
They even heard some people cheering.
They wondered what the other thorns were thinking.
While their own hearts were sinking.
From the beginning, thorns have always been a curse,
And today these thorns were sad, to be considered the worst.
A man came out of the crowd, he took the tree from the man wearing the thorny crown.
He helped him carry the tree right through town.
The thorns grew sadder each step that was made,
The price they would soon understand was going to be paid.
The tree was laid upon the ground,
While soldiers stood all around.
One soldier picked up a hammer and three large nails.
One of the little thorns thought, "What ever he's doing, I sure hope he fails."
The soldiers held His feet together, and drove in a nail to hold His feet to the tree.
The other two nails were driven into each hand, now all nails were used, one, two and three.
The thorns noticed a sign above His head.
In three languages it was read.
The words said He was a King.
The thorns were confused, He wasn't wearing a robe, not even a ring.
The tree was lifted up and placed in the ground,
While on-lookers gathered all around.
The thorns noticed a man hanging on a tree on either side.
Their sins they could not hide.
"Lord, remember me when thou comest into thy kingdom," one did say.
He answered, "Thou shalt be with me in paradise today."
Remembering the earlier words of this man, "Forgive them Father, for they know not what they do,"
They noticed the sky was now black and no longer blue.
They knew this man was going to die,
Inside their hearts they started to cry.
They tried to insert themselves deeper into the holes to keep the blood from flowing.
But still the Saviour's soul soon would be going.
As the ground started to shake,
They came to the conclusion that with God in control their hearts would no longer ache.
Jesus said, "It is finished," and gave up the ghost,
to be with His Father, the Heavenly Host.
Then they let the blood run free,
The thorns had realized that His blood was in God's Plan for you and me.