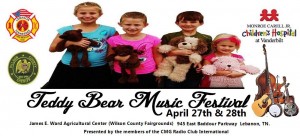 CHILDREN'S TEDDY BEAR FESTIVAL
http://www.childrensteddybearfoundation.com/index.html
As a part of this mission our partners at The CMG Radio Club are presenting a two day week-end music festival. The festival will be to assist the children who are patients at the Monroe Carell Jr. Children's Hospital at Vanderbilt. (Nashville) and to assist the Wilson County Sheriff & Fire Department's with their annual gifts for children drive. 1/3 of the Teddy Bears will go to each of these charities and fifty per-cent of the fund raising efforts will go to Monroe Carell Jr. Children's Hospital at Vanderbilt. (Nashville) the remainder goes to off set the cost of this event and to aid the Teddy Bear Foundation in it's efforts to help children who need our assistance.
This event will be held at the Wilson County Ag Center (Fairgrounds) in Lebanon, Tennessee just outside of Nashville. (Music City USA) There will be (2) stages with live performances through out the day and evening for both days of the event.
In conjunction with this festival the CMG Radio Club will host their annual awards show on Sunday Night at 10:00 pm CST. on the main stage, with the presentation of 35 awards to the members of the club who have shown they merit such awards.  We will also be drawing for the Clardy Custom Built Guitar at that time.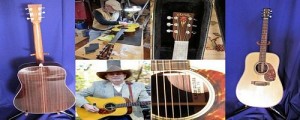 The Wristbands at the gate will be: $40.00 and covers both days.
Cut that price in half  – purchase them in advance online! $20.00 both days.
http://www.childrensteddybearfoundation.com/tickets.html